At face value, multi-sourcing seeks to achieve the same benefits as any (out)sourcing arrangement.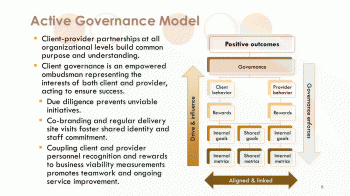 Active governance model aligns and links client and supplier metrics and goals. From
our presentation
. ©PJV
Reduce costs
Augment capabilities
Improve service quality
Cut time to market
Focus internal resources on business priorities
Accelerate growth
Multisourcing brings together sourcing best practices under one roof.
A comprehensive strategy linking and integrating sourcing with long term business goals and objectives.
A governance framework supporting sourcing strategy implementation.
Developing client-supplier relationships, internal ("right sourcing") and external, and building a network of relationships.
Developing metrics which align client and supplier goals to promote successful outcomes.
It also promotes a more disciplined and deeper involvement beyond the supplier lifecycle:
understand client market dynamics, and how that affects sourcing no and in the future
develop competency managing offshore relationships and associated risk, privacy, and security
engender a sourcing culture which resists "tactical" outsourcing and promotes a structured approach:

understand what you wish to achieve through outsourcing: cost or operational improvements? next-generation solutions?
determine how best to achieve sourcing goals: internal, external, mixed?
align goals and delivery models: custom? standard? domestic? international?
Hopefully we've prompted you to consider your technology sourcing practices from a more strategic perspective, one which also acknowledges the value of your supplier partners.