Having successfully outsourced work to a supplier, we, as the customer, transition from a direct management role to a service and relationship management role. A key success factor is instituting a strong methodology for relationship management.
Governance
"Governance" encompasses the entire range of relationship management activities. One of the keys to a successful supplier-client relationship is both organizations engaging each other in not only monitoring but promoting and furthering the relationship. A robust, formal model supporting governance spans both process and artifacts: a mature governance model aligns the client with their supplier organizations across multiple layers of management, from CIOs and CTOs to the project teams. Such a model includes regular communications at all levels with defined escalation paths in both organizations for any issues requiring resolution.
We believe it is vital for organizations to institute strong, formal governance with all their key IT suppliers.
Executive Sponsor

Meet 3 to 4 times per year
Recommendations for continuous improvement
Review metrics measuring relationship success
Consider innovation and new business opportunities

Strategic

Senior Stakeholders,
Engagement Management

Meet monthly
Review supplier services (personnel focus)
Review project health (engagement focus)

Tactical

Relationship Management,
Program Management,
Escalation

Meet every 1 to 2 weeks
Monitor engagement progress
Track metrics for major projects

Operational

Project/Program Management

Meet weekly
Review project delivery in detail versus anticipated work breakdown
Escalate any issues encountered

Operational
Here are some resources to assist you in launching your own governance program.
We also discuss governance in greater detail in support of a formal multi-sourcing strategy.
Metrics
Whether projects or ongoing activities, we recommend working together with your supplier to put meaningful and representative metrics in place with realistic performance goals. Metrics provide insight into ongoing activities and help management make decisions based upon objective service delivery criteria.
Metrics data can be used to actively monitor and analyze results in areas of processes, process conformance, productivity, quality of output, quality of service provided apart from also providing basis for continuous future improvements. They also play a fundamental role in the measurement of overall supplier performance. Metrics bring consistency in measuring various areas of work performed, since the metrics data is outcome based and is not based on opinions of individuals at either the supplier or our end. Metrics also allow us to get a realistic view of the provider both at the project as well as at the engagement level in areas like scope delivery, productivity, quality and scheduled adherence.
Most importantly, metrics provide a basis to measure the business value that the supplier is providing us apart from measuring the areas of impact that the supplier performance might have on the business. Measured and reported on a regular defined frequency, metrics provide a basis for improving productivity and quality by helping with objective analysis of the root causes of concerns/issues.
We devote a separate section to metrics and areas of applicability.
Service level agreements
A Service Level Agreement (SLA) between a client and supplier consists of one or more Service Level Objective (SLOs) with associated achievement targets based on defined, agreed-to metrics — often designated Key Performance Indicators (KPIs). An SLA defined and agreed upon by both sides sets expectations in terms of provider's responsibilities, priorities and quality of work/service provided which is measured against set achievement targets. An SLA will also serve to outline our responsibilities to the supplier in support of their meeting SLO goals, for example, timeframes for reviews and approvals.
Selection of SLOs and implementation of the related metrics should be governed by the type of work that is being performed. In addition, selection should also be based on the state of the current work, for example, do the metrics pertain to new development activity or to maintenance and support. This ensures that only appropriate and directly relevant key indicators are included for measurement and reporting as a part of the overall SLA.
SLO targets need to be based on historical data to set expected achievable targets. This requires both client and supplier select suitable measurement areas relevant to the work being performed. Once the relevant metrics have been selected, these need to be monitored for a "benchmarking period" of 3-6 months after which the SLO targets are set for the subsequent period. This ensures setting of realistic goals for SLO governance since there is solid empirical basis for the target achievement levels.
Once the SLOs have been agreed upon by both sides, they need to be measured and reported per the required frequency over a defined period of time, typically reporting monthly quarterly, and annually. In addition to penalizing prolonged poor achievement of SLOs, consistent over-achievement of defined targets should be considered for rewards. We should therefore also strongly caution that SLOs should not be set so low that monthly metrics reporting produces a "sea of green" while customer satisfaction is marginal at best.
SLO targets should be revised periodically to reflect expected improvements in service delivery maturity and to promote targeted improvement in areas being measured under the service levels. Revision of targets should be discussed at least annually, if not semi-annually. An increase to the target levels after every interval in the range of 2%-5% performance improvement should be considered and incorporated into ongoing SLO targets. This practice helps formalize and measure ongoing process and performance improvement and helps deliver incremental business value.
Client-supplier communications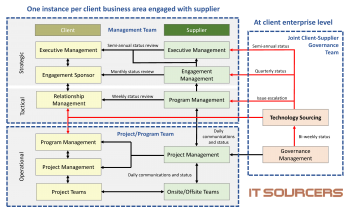 Governance communications and issue escalation
Our diagram depicts a sample flow of client-supplier communication. The governance structure we documented above defines the escalation structure. Working within this governance structure, sourcing interfaces at all levels of supplier and client management to address delivery issues, insuring client's success by working to insure the success of our suppliers. It is therefore essential that sourcing have the authority within the enterprise to effect changes in client behavior and actions, particularly at the most senior levels. Regardless whether technology sourcing—and, increasingly, everything is "technology"—lies within IT, finance, or procurement or exists independent of those, sourcing must be chartered to escalate engagement issues to the CEO if necessary.
Sourcing large strategic projects
As long as a repeatable, transparent, technology sourcing process is in place and followed throughout the organization, it is not essential to involve sourcing in every technology-related acquisition. However, sourcing should be specifically chartered and empowered with oversight to insure supplier-client success on large strategic projects, with the goal of ensuring timeliness, cost and quality goals are all achieved. Key activities include:
Coordinate the supplier selection process including

Requests for Information for new suppliers
Request for Proposal and selection process

Establish Master Service Agreements and Statement of Work

Terms and conditions
Rates and pricing
Service level requirements

Establish and Facilitate the Supplier Relationship Management and Governance Process
The business and/or technology area (customer) takes the lead, with sourcing consultation, in:
selecting the supplier;
preparing the business case; and
coordinating daily or weekly operational meeting between the project team and the supplier dealing directly with project execution per the SOW.
Additional background:
Best practices
More often than not, "best practices" means:
find someone who does something well and
imitate them, rather than leading by example.
Unsurprisingly, adopting business practices based on consensus after that consensus has coalesced and matured will always leave you behind the competition.
Every enterprise is becoming digital. All IT is becoming solution-and therefore sourcing-driven. Our experience is that leading best practices are simply common sense practiced with conviction. From that perspective, the question is not whether to pursue single-sourcing or multi-sourcing, discussed in our next section, but whether or not there is a cradle-to-grave view of the supplier relationship as evidenced by active, organizationally focused and empowered management of that lifecycle—rather than carving up responsibility for various stages of the sourcing lifecycle resulting in in a series of hand-offs, like an unwanted step-child ushered from house to house. Our focus is on "best" practices which drive the value sourcing relationships deliver for the enterprise:
align sourcing decisions to desired outcomes and stated strategies;
leverage technology innovation across the enterprise; autonomy within groups to "roll their own" ultimately loses value for the enterprise by fragmenting the approach to similar needs and by proliferating suppliers;
on the other hand, supplier consolidation does not bring economies of scale unless adoption also brings with it standardization; and
most importantly, lead as a change champion to assist IT managers in the transition of the substance of their roles when outsourcing major projects or functions from a "do-er" to a service- and relationship-management role working closely with an external supplier.